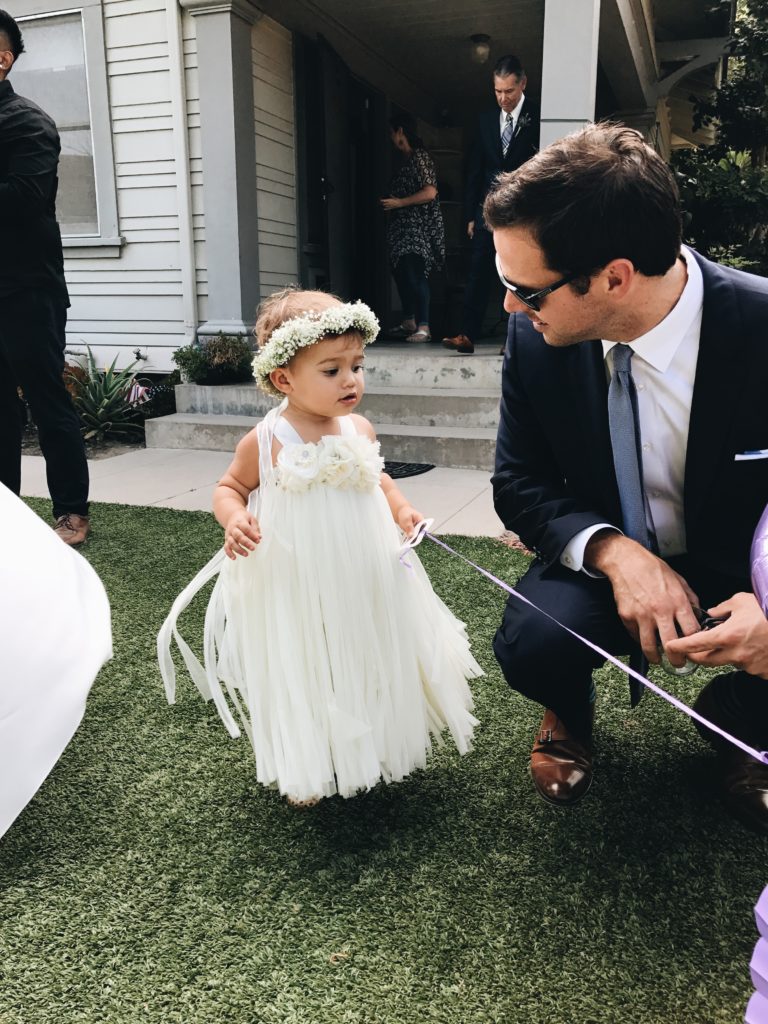 I'm pretty much two weeks late with this update… so, that probably gives you an idea of how crazy life has been lately. Yet, better late than never, right? Without rambling too much, I'll just get right into the raw and honest truths about this past month of motherhood!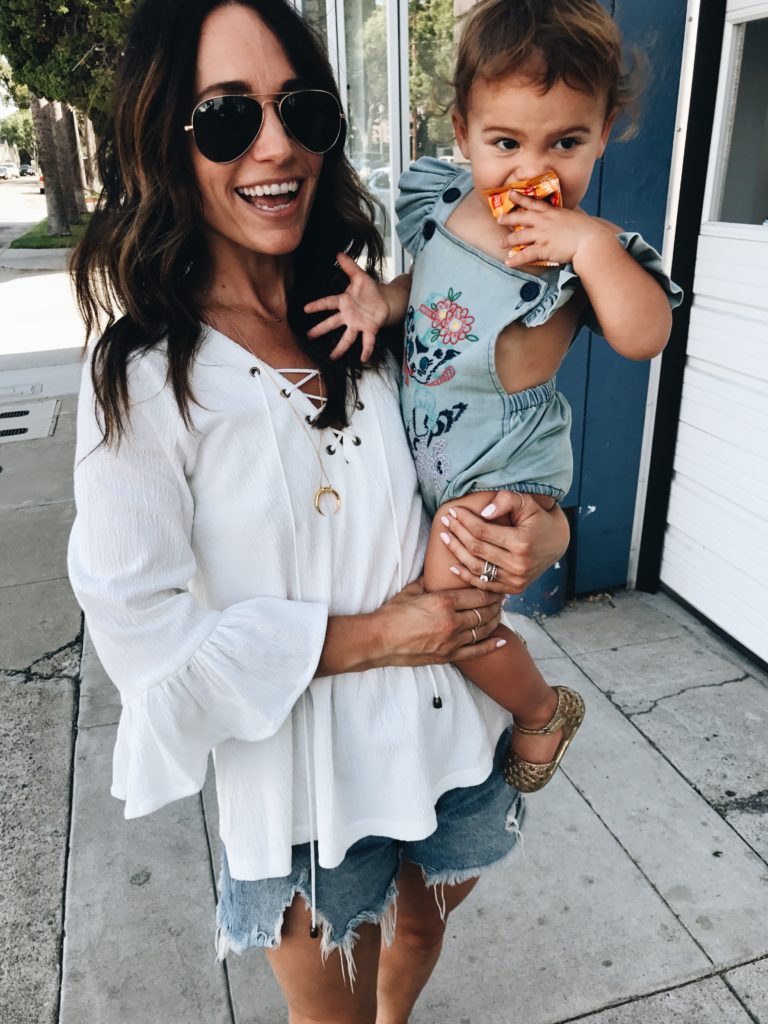 (My top, wearing S)
Challenges: I'm starting here this month… because, well, these past two weeks have been just that. I don't know what happened, but over the course of the last couple of weeks I feel like my sweet little girl was replaced by a defiant booger. Seriously. Like, looking at me and doing exactly what I asked her not to do. Screaming. Throw herself on the ground tantrums…. you name it, I'm pretty sure we've experienced it over the past two weeks. This is pretty much how I feel at the end of the night,….."I'm just a girl. Standing in front of a clock. Asking it to be my child's bedtime." Now, don't get me wrong, I love the crap out of that little lady…. buuuuut, sometimes you just need a good 12 hour break…. and I've been needing them more often than not lately.
I guess this is where I fall back on some of my training as a Parent-Child-Inteaction-Therapist and give her natural consequences. If she throws something, I make her help me pick it up before we move onto another activity (natural consequences). I try to give her as much positive attention, as possible, provide her with a lot of positive praise for the things she is doing, and give her lots of "If-Then" + "When-Then" statements…. oh, and lots of choices. Basically, I give her the power to choose if she gets a consequence or not. Take today for example. She was throwing a bottle of lotion and I let her know that if she threw it again, then I would take it away from her. She looked at me, paused, and decided to throw it anyway…. and then run away. So, I calmly told her that she made the choice to throw it, and that she can't play with the lotion bottle anymore. I say "calmly" but inside I wanted to pull every hair on my head out…..
Favorite Part: While I just laid it all out there with regards to the challenges I have faced this month, one of my favorite parts is seeing her ability to process, and assert her own personality. She has also become so loving, saying "I love you" (obviously not that clearly), and giving lots of hugs and kisses. Actually, after she makes a bad choice, she immediately comes up to me, from behind (if I'm on the floor), and wraps her arms around me. It's that engagement, and reciprocal relationship, that I love so much and, in turn, creates the limit testing…. so, I take the good with challenging.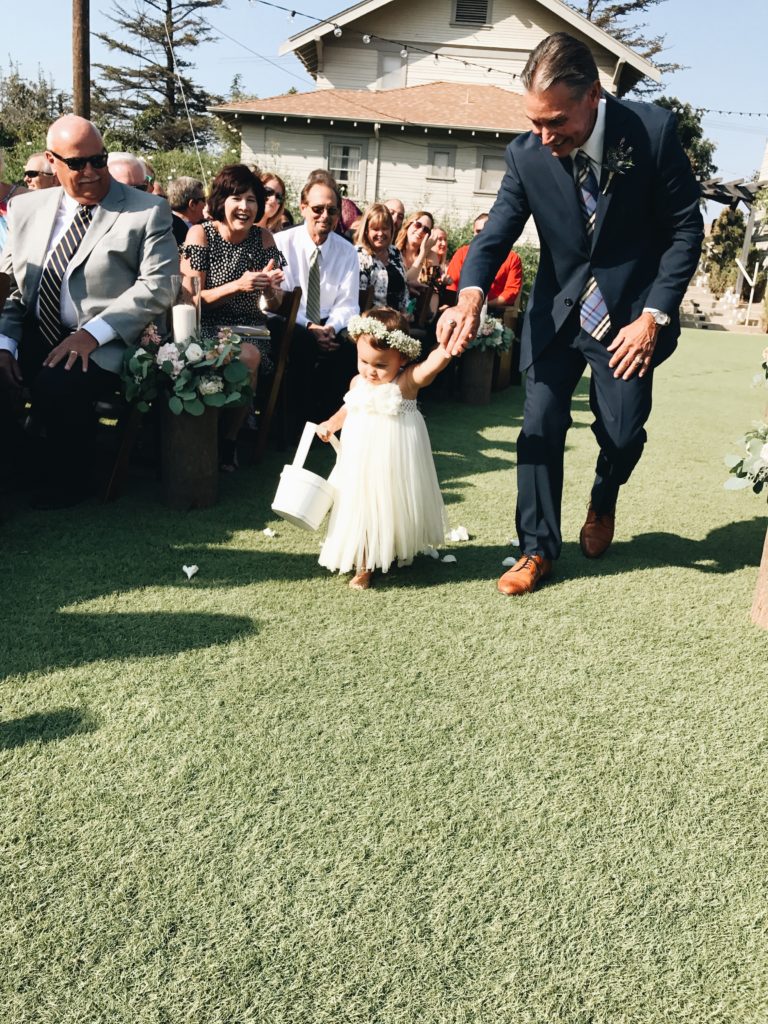 Sweetest Moment: For me, this moment was last weekend, at my sister's wedding. Harper missed her afternoon nap (of course, through the business of the day, we forgot her pack and play at home, and she couldn't sleep in the one provided by the hotel) and when she arrived at the venue, she was on the fiesty side. When it came time to line up and walk down the aisle, we were sure that I was going to need to carry her. Yet, I ended up walking down, and  by the time I got the end, I saw my dad walking Harper down. He tried to let her go at the beginning of the aisle, but when she saw all the people looking at her, she quickly ran back and grabbed his hand and pulled him back with her. Together they walked down, she threw one handful of flowers, and then insisted on throwing them once she sat down. Little moments like those make all the challenging ones so worth it.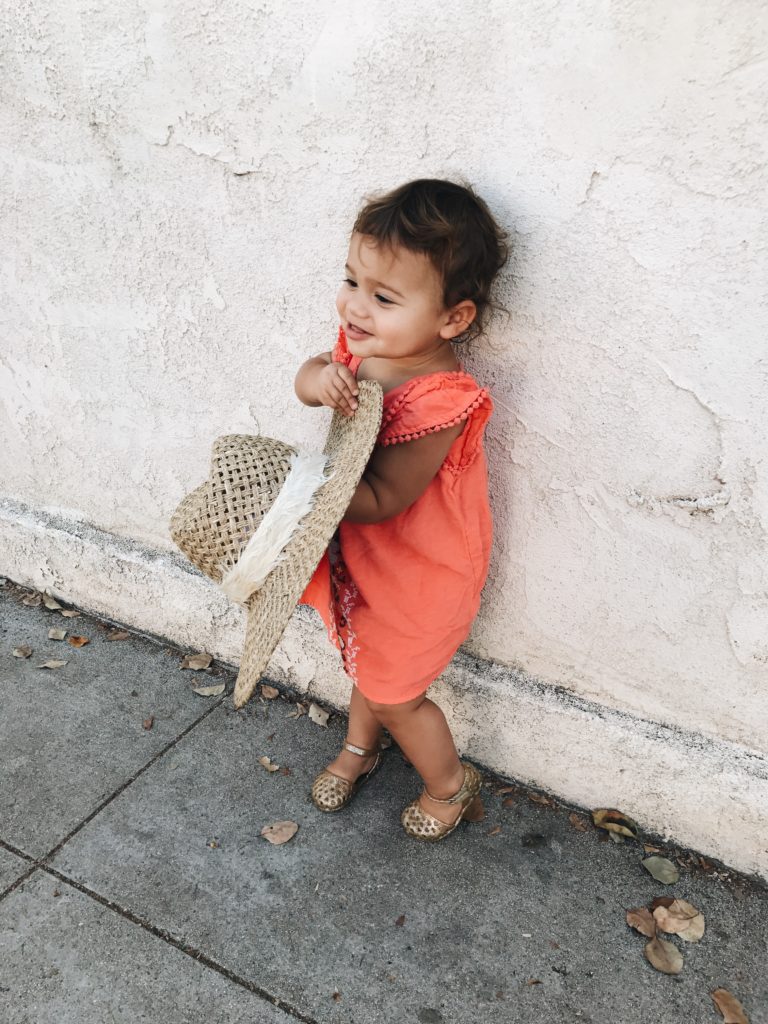 (Harper's Dress)
Eating: This has been an area of transition over the past few weeks. Harper used to have a huge appetite, but over the past couple of months it has fluctuated. Some days she eats a lot, others she eats like a bird and I'm thinking to myself, "She has to be starving." I actually brought it up to the doctor at her 18 month check-up and she mentioned that it was normal. She said that at this age kiddos eat more some days and because of that, it's as if it's been stored, so they aren't as hungry. I never force her to eat, because I do want to instill some sort of mindful eating in her… so, she can tell when she is full and trust that feeling.
That being said, she has some favorites. A grilled cheese sandwich is usually never refused (I use this bread and cheese), cauliflower rice (when I make it like this or this), sliced grapes, a banana (or "nanana"), avocado, broccoli (not sure why this one….), oh, and mac n' cheese. She also loves eating with a fork or spoon now and almost refuses to eat without one (which results in a much bigger mess, but love that she's developing this skill!). We also continue to use this placemat and these sippy cups (both are currently on sale).
Her Favorites: She is obsessed with drinking her water out of an iced tea cup… so, I pretty much rinse mine out and then she drinks her water through it (like, she begs for it….). She loves music and insists on playing an old record player and cd player simultaneously. Balls. She. Is. Obsessed. If you want to put a smile on her face, hand her a ball. She also loves swimming, being outside, and brushing her hair… and putting sunscreen on me. That's another thing she is obsessed with… opening the sunscreen bottle and getting a tiny drop on her finger and then rubbing it on my legs.
Sleeping: For the most party, everything is pretty status quo over here. We've successfully weaned down to one nap. She goes down around 1:30 and wakes up around 3:30-3:45 (and, when I'm lucky, 4!)…. lately, she's struggled to go down at night, and is extra clingy. So, it involves singing her a few extra songs, and then rubbing her back once I put her down in the crib. I recently bought her these pajamas (since our house is set at a cool temperature in the evening) and she looks so cozy in them…. oh, and she loves sleeping with a little stuffed animal. This one is currently her favorite (it's so soft!).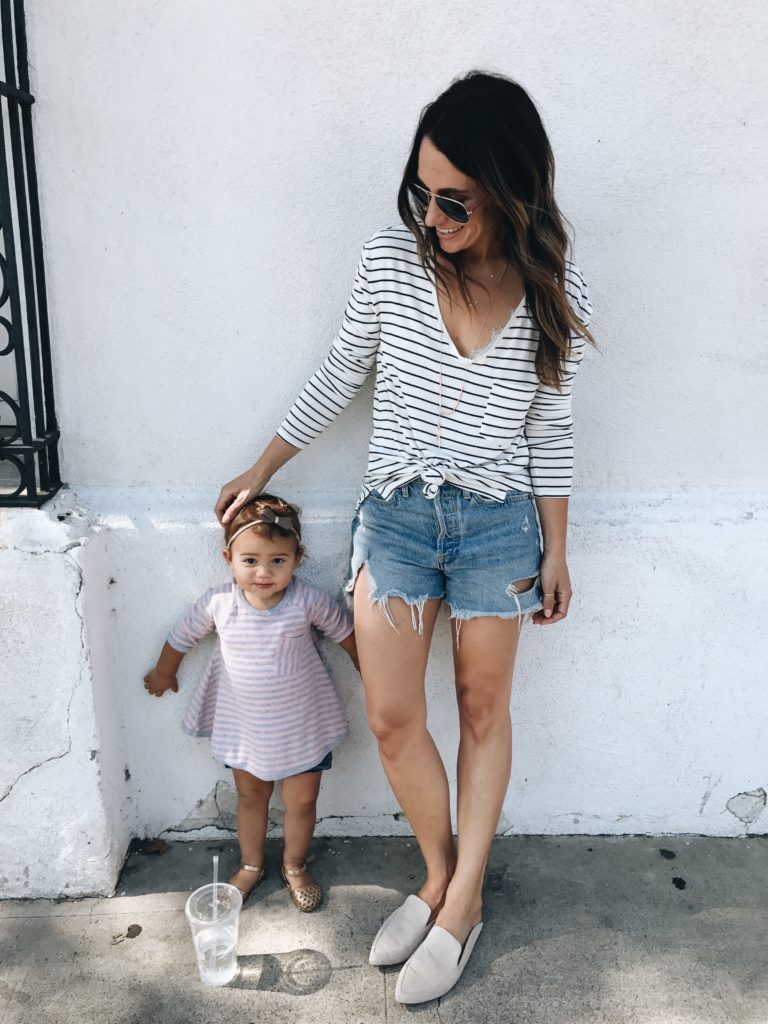 (Harper's Tunic/Dress | My Tee)
Reality:  Sometimes, I find myself getting caught up in what I think other people's motherhood journey is like. I see glowing photos on instagram and wonder if they, too, deal with some of the daily struggles of motherhood. I quickly remind myself that what is seen is only half of the reality, just as it is with me. In a bit of transparency (as if I haven't shared enough already in this post) I went to Harper's 18 month check-up seeking validation for some of my feelings and actually left feeling very invalidated. So, I picked up the phone and called a girlfriend… posted about some of it on instagram stories, and received tons of feedback that others were experiencing the same thing. I think that the motherhood community can be so powerful and supportive when we all just stop and remember that we're all doing the best we can!
Marriage: TJ and I got away to Vegas a few weeks ago for a couple of nights and had such a blast being on no schedule… and I always think it's so important to re-visit the roots of your marriage (not that Vegas is… but traveling together and enjoying uninterrupted meaningful conversation is….). At the end of a long day, I love that I have TJ to share the parenting challenges with. Don't get me wrong, we get frustrated, snap, and have to apologize… but that all comes with the territory. As Harper gets older, it's really nice to see how our own individual strengths tend to compliment each other in the parenting realm.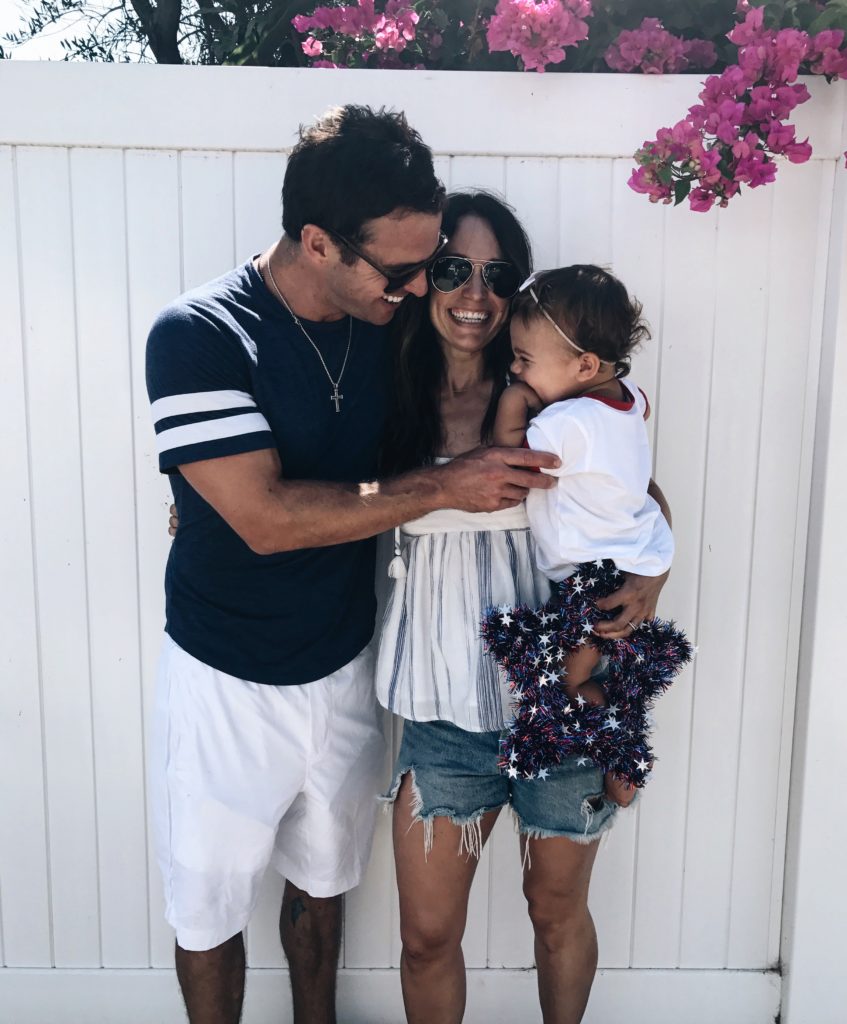 Favorite Products: With Harper loving the pool (we're getting her lessons in the next couple of weeks) these puddle jumpers have been amazing, and she loves them. She's so confident with them on, and she loves jumping into our arms (from steps already in the pool) and floats out to get her ball. These water shoes are a great option for when she is around the pool…. she actually asks to put them on. This is my favorite sunscreen for her face… I love the easy application it provides… she even likes to do it herself sometimes. She's also been loving these little ruffle one pieces… they're such a great option in this summer heat! We also got her these little shoes and they fit her perfectly and she seems to love them…. they're well made and really soft.